15/03/2023
Celebrating 75 years by planting 7,500 trees throughout Stockport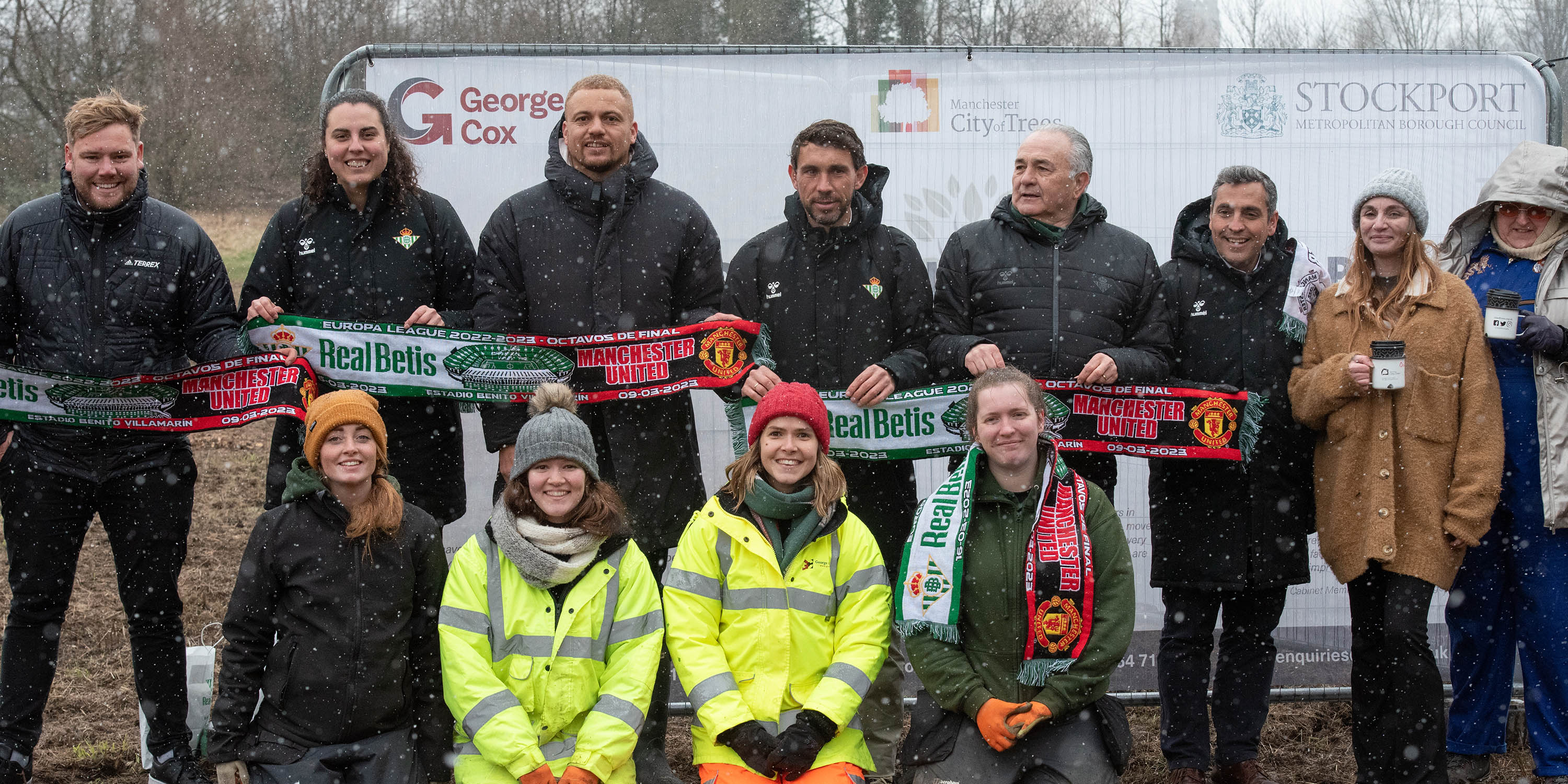 The 8th of March marked the first day of our tree planting community project at Penny Lane, Stockport. Our aim is to plant 7,500 trees throughout the month of March, in partnership with Stockport Council and City of Trees.
"We have worked closely with City of Trees and Stockport MBC to develop the first of what is hoped to be a number of new Community woodland areas" says Chris Cox, Managing Director. "We thought this was a great way to celebrate our 75th Anniversary as well as giving back to the community of Stockport".
"This is a great partnership-led community project," said Cllr Mark Roberts, Cabinet Member for Climate Change and Environment, at Stockport Council.
"George Cox is one of our long-standing highway framework contractors and it truly is a positive contribution they are making in fully funding this tremendous project".
"Planting more trees is an incredibly important factor in the Council's strategy to help combat climate change and improve the biodiversity of the borough."
We organised a number of public tree planting days to get different people from the community involved in the project. This includes a day specifically for the nearby residents, so they can influence their surrounding environment, and a variety of sessions for local schools to get involved.
The first community day was held on 8th March, which was a great success, and had a fantastic turnout of local residents, council officials, and even a surprise visit from Man United and Real Betis legends Wes Brown and Rafael Gordillo. Our goal was to plant 400 trees throughout the day, but by 3pm we had close to 600 trees in the ground! Even the snowfall could not dampen our spirits.
The trees being planted are native species, selected for their suitability to the area and their ability to create new habitats for wildlife. This will also create a nature corridor, connecting the Penny Lane woodlands to the Reddish Vale Country Park, making it easier for wildlife to make new habitats, leading to a more diverse and beneficial ecosystem.
"This is a fantastic opportunity to work with other contractors in the area and, with the of help organisations like George Cox, move closer to our ambitious goal of planting at least one tree for every person in the region. Tree planting schemes, like Penny Lane, are key for tackling the climate emergency head on and creating a greener, healthier, and happier Greater Manchester" said Bryan Cosgrove from City of Trees.
The case study for our incredible community project is now accessible for reading. Please follow this link to access it.