Our History
A Family Tradition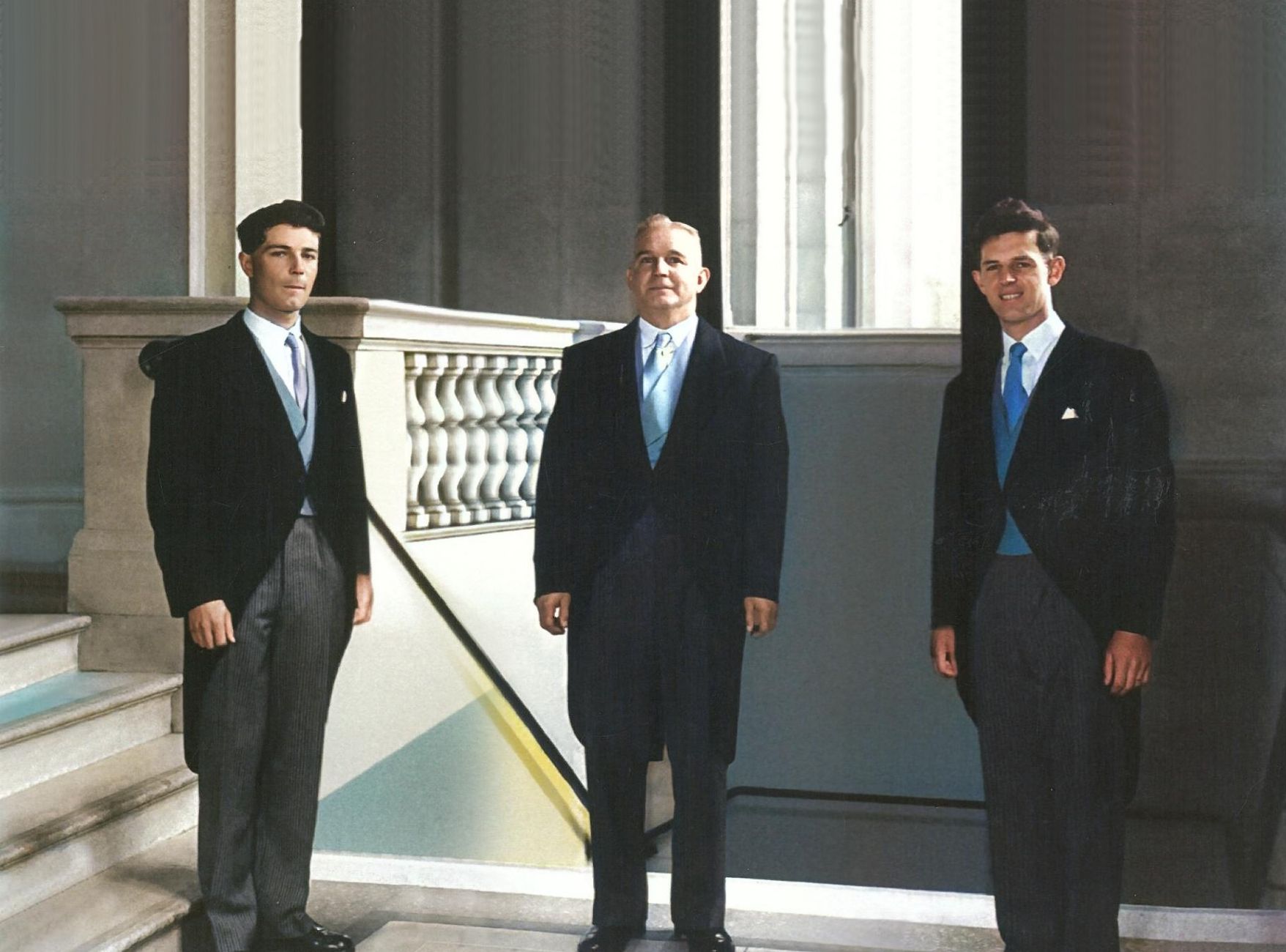 In April 1947, at the age of 46, George Cox left the security of employment as a street mason with Eccles Corporation and began working for himself as 'George Cox Flagging Contractor.'
Getting work then meant going from door to door and advertising in local shops. George, who was unable to drive and could not afford to buy a vehicle, carried the flagging stones, sand, cement and tools for a day's work on his handcart and returned at the end of the day with all the waste. To his wife's dismay, their front garden in Farnworth became a storage yard and a place to park the cart. It was hard, physically-demanding work, and yet George persevered through the busy summer and autumn months with a regular supply of jobs. In the winter, he supplemented his income by carrying out roof repairs, drainage and even snow shifting.

Over the next two years George established his reputation and gained work all over Bolton. The purchase of a tipping lorry for £145 proved to be of great use but as he was still unable to drive, he persuaded a neighbour to drive it on a part time basis. George's two young sons, George Junior and Frank, would help him at weekends and during school holidays:,something that would become a family tradition.

In 1953, George Cox Senior and his two sons created their family company. George's wife, Elizabeth, was delighted when the business, now trading as George Cox & Sons, decided to move away from paths and drives - and out of her front garden - to work for local corporations including: Bolton, Atherton, Eccles, Sale and Manchester. In 1957, the company moved into its own depot on Fletcher Street.
By 1965, the firm was employing 72 men and operating nine lorries, three vans and three cars. It was then that Frank took over the running of George Cox & Sons Ltd and five years later, at the age of 70, George Senior retired.
Frank was now supported by a management team made up of Bob Dale, Danny Ramsden and John Hulme. Together, through the 70s and 80s, they lead the firm though many iconic projects including Bolton Town Centre, Topp Way and Walkden Memorial relocation as well as riding the storm of turbulent economic times for the country.
In the 1980s Frank's two sons, Chris and Martyn officially joined the firm, having previously worked many weekends and school holidays helping out on site. They were joined by Geoff Absalom and Robin Greenwood. In 1993 they took full control of the company, with Chris becoming Managing Director. A third member of the family John Walsh (brother-in-law to Chris and Martyn) joined the company a few years later.
Due to their hard work and dedication, the firm's reputation now extends far beyond Bolton, with the turnover increasing year on year. This continued growth led to an expansion of the company and the development of two regional offices, in addition to its Farnworth head office.
In 2018, Martyn retired from the company to pursue a career in local politics and is now Leader of Bolton Council. In the same year Francesca Cox, daughter of Chris Cox and Great Granddaughter of George Cox (Senior), joined the business, working within the commercial and contracts departments. In 2022, she was joined by Chris' other daughter Abigail, and together they now coordinate the commercial team, which handles all enquiries throughout the company.
At the beginning of 2023, Chris celebrated 30 years as Managing Director. Chris has been responsible for developing the company into leading and award winning North-West civil engineering and highways framework contractors and in doing so has overseen an impressive seven-fold increase in turnover.
Last year, we celebrated 75 years. We are still Bolton based, and we still have the same core social and family values, but we have come a long way from pushcarts and cash payments. With the support of our loyal and experienced staff, we have maintained a reputation for quality, integrity and professionalism which is set for generations to come.